left:
Blevin Blectum
Sharon Cheslow
Jenny Hoysten

center:
Alyssa Lee
Bianca Sparta
Marisa Meltzer

right:
Erin Weber
Miya Zane Osaki
Ellie Erickson

Ladyfest Bay Area, New College Theater
SF, CA
July 27, 2002

mp3
Sonic Triptych (2002)
mixed media
sound performance

Sonic Triptych I was a composition for nine individuals that used the formal element of a triptych to structure sonic portraits. One to three minute simultaneous performances by three groups were interwoven in three sets , with participants using any instruments or sound based actions of their choice as self representation. The composition allowed for freedom within certain parameters, as a means for facilitating participatory and collaborative action.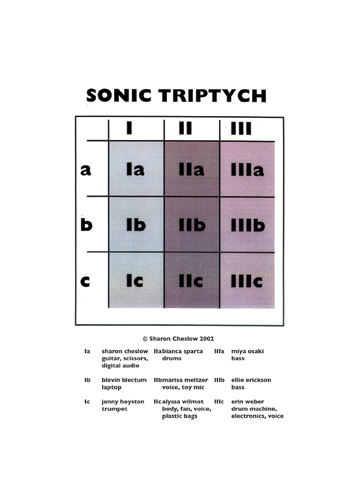 You can download a Sonic Triptych postcard from Pretty Panicks Press.

Sharon Cheslow-guitar, scissors, digital audio
Blevin Blectum-laptop
Jenny Hoysten-trumpet
Bianca Sparta-drums
Marisa Meltzer-voice, toy mic
Alyssa Lee Wilmot-body, electric fan, voice, plastic bags
Miya Zane Osaki-bass
Ellie Erickson-bass
Erin Weber-drum machine, electronics, voice
Click here for info about "Sonic Triptych II."