APRIL 2013
There are really cool Corcoran Library Research Guides available for the Corcoran Gallery's "Pump Me Up: DC Subculture of the 1980s" exhibit (see below for more info on the exhibit).
MARCH 2013
Banned in DC is in the Corcoran Gallery's "PUMP ME UP: DC Subculture of the 1980s" exhibit...below is the book cover and two of Cynthia Connolly's layouts.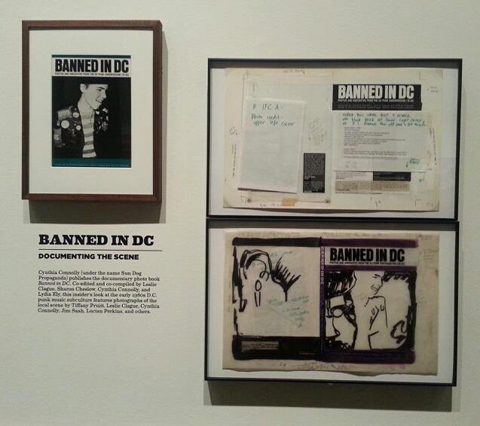 (photos courtesy Cynthia Connolly)
FEBRUARY 2013
Cynthia Connolly will have work in the upcoming exhibit "PUMP ME UP: DC Subculture of the 1980s" at the Corcoran Gallery of Art. The exhibit opens Feb. 22, 2013 and runs until April 7, 2013. She'll have two objects in the show: The Black Sheep drawing she did for Minor Threat's Out of Step EP cover, and original layout boards for the Banned in DC book, that she still publishes. Banned in DC, co-authored by Cynthia will Leslie Clague and Sharon Cheslow, is unfortunately out of print, but Cynthia is in the middle of the laborious project of making it digital to be reprinted.

Cynthia will also be exhibiting her more recent "Letters on Top of Buildings" photographs at the Corcoran, in a different gallery. These are photos the Corcoran recently acquired. Read a great recent article on Cynthia here.